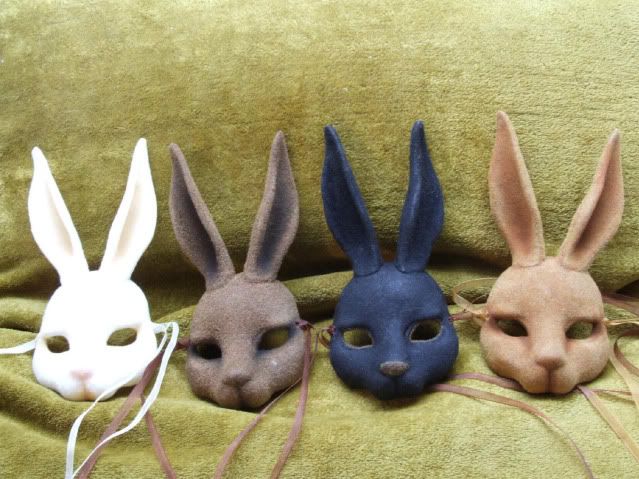 ♥
We are now up to four rabbit colors. All rabbit masks will be fuzzy. The four colors to choose from are: white, brown, black, and sable.
.
Rabbit masks are Super Gem Dollshe Hound in size. These masks are not "people size", they are "doll size". Photos on a doll are around on the blog here, somewhere.
.
The masks are acquired by the same procedure as the "Series One Masks". Basically, what this means is: you send "your name, email, address, and paypal" information along with your "color choice and quantity" to cathyATcathycaraDOTcom . You will be placed on the 'reservation list' and will have masks set aside for you. You will not receive an invoice requesting payment until your mask(s) are boxed on the shelf and ready to ship.
♥
Each rabbit mask is $65 USD plus shipping.
Insurance is required. There are no refunds, no returns, and no exchanges.
♥
Details on acquiring the masks are here:
http://simplydivine99.blogspot.com/2011_02_01_archive.html
.
Please note that the "white rabbit mask" is washed out in this photo. Each of the rabbits is first hand flocked and then is airbrushed; variations will occur. Please do not order them if you expect "your mask" to be "exactly like someone else's mask".
.
We pack each mask very carefully and expect each to arrive in the same brand new condition that it left the factory. Masks will be shipped directly from the factory.
.
Rabbit masks may begin shipping as early as the latter part of this week.
♥
Thank you for your deep interesting.